So I've decided to try a reading challenge this year. I thought the best one for me would be one that challenged me to read some of the books that are already on my bookshelf, but that I have yet to crack open the pages. And I found this challenge that sounds great: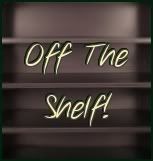 I've decided to start small, and go with the "Trying" Challenge Level, where I will read 15 books off my shelf this year. I hope to read more books than I read last year (30) but I have book club and other books that I'd like to read that don't qualify for this challenge.
I've already started, and here are some of the books that I can choose from off of my shelf:
The Hitchhiker's Guide to the Galaxy, by Douglas Adams (I'm reading this one now)
The Restaurant at the End of the Universe, by Douglas Adams
Life, the Universe, and Everything, by Douglas Adams
So Long and Thanks For All the Fish, by Douglas Adams
Mostly Harmless, by Douglas Adams
Little Women, by Louisa May Alcott
The Great Gatsby, by F. Scott Fitzgerald
The Scarlet Letter, by Nathaniel Hawthorne
A Portrait of the Artist as a Young Man, by James Joyce
To Kill a Mockingbird, by Harper Lee
Eragon, by Christopher Paolini
Swann's Way, by Marcel Proust
The Lightning Theif, by Rick Riordan
The Oedipus Cycle, by Sophocles
The Notebook, by Nicholas Sparks
Dr. Jekyll and Mr. Hyde, by Robert Louis Stevenson
Walden, by Henry David Thoreau
The Fellowship of the Ring, by J.R.R. Tolkien
The Two Towers, by J.R.R. Tolkien
The Return of the King, by J.R.R. Tolkien
Anna Karenina, by Leo Tolstoy
Candide, by Voltaire
Faust, by Johann Wolfgang von Goethe
Night, by Elie Wiesel
Ethan Frome, by Edith Wharton
The Importance of Being Earnest, by Oscar Wilde
The Picture of Dorian Gray, by Oscar Wilde
So, my few followers, which books do you think I should read for this challenge?